Do the Right Thing
Responsible investing goes hand-in-hand with our organization's values. One needs to look no further than our mission statement to understand that the notion of investing responsibly is core to our culture. We enrich lives and safeguard futures. We do the right thing – we invest with partners who share our values and those of our clients. Responsible investing makes good business sense – it can reduce risk and seeks to create better outcomes – for all stakeholders. It helps to safeguard our collective futures.
Environmental: We believe the actions we take today that affect our environment will impact us all. It is our collective responsibility to make thoughtful decisions that will safeguard our planet and preserve it for future generations.
Social: We believe all people, regardless of gender, sexual orientation, disability, race, ethnicity or nationality, are deserving of respect, inclusion, safe work environments and basic human rights.
Governance: We believe alignment of interests, fair compensation, transparency and accountability are crucial to generating long-term, sustainable performance.

Responsible Investment Committee
---
Raising the Bar
As a global leader, we have consistently been at the forefront of industry changes, often helping to influence and drive them.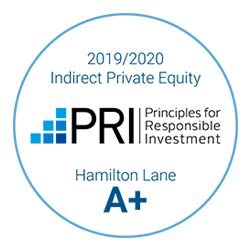 Indirect Private Equity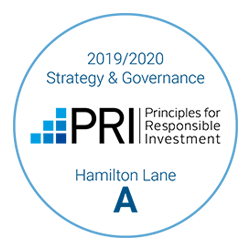 Strategy & Governance
Sustainability concerns, social issues, responsible investing considerations – these factor into everything we do at Hamilton Lane. Our focus is on expanding those efforts to continue to adapt to the evolving market and better serve our clients, investors and employees.
Paul Yett


Director of ESG & Sustainability
TCFD: Hamilton Lane supports the recommendations of the Task Force on Climate-Related Financial Disclosures (TCFD). The TCFD has emerged as the predominant framework for reporting on climate-related financial information which is imperative to broadening industry understanding of the risks and opportunities posed by a warming climate. We believe that reliable data is key to both informed investment decision making and positive change for our planet.

The Paris Agreement: Hamilton Lane is proud to support the Paris Agreement on Climate Change, and its goal of limiting global warming to below 2 degrees Celsius above pre-industrial levels. The consequences of warming above these limits will be dire for large portions of the planet and their inhabitants. We seek to align our investment activities with a transition to the lower carbon economy needed to meet the goals of the agreement wherever possible.